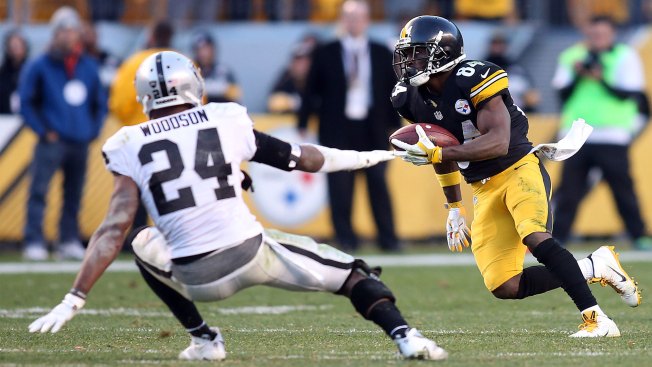 Antonio Brown had a ho-hum 2018 season. On the field, anyway. The four-time first-team All-Pro had 104 catches for 1,297 yards and 15 touchdowns, pretty standard statistics over his past six seasons.
An average year for Brown's a dominant showing for anybody else. His touchdown count would have been his only personal best of the bunch, but every number would have tied or neared a Raiders franchise record.
That includes golden eras featuring Hall of Fame receivers, including Tim Brown. Antonio could be the best Raiders receiver – Randy Moss was neither good nor engaged while in silver and black — since Mr. Raider.
Amari Cooper and Michael Crabtree are the only Raiders 1,000-yard receivers since Moss in 2005, a prolonged drought without dominance in the pattern.
Brown will provide that for the Raiders after being acquired from Pittsburgh for a third-round pick and a fifth-round pick, both in 2019, even though he'll be 31 when next season kicks off.
He has six straight seasons with at least 100 catches, 1,280 yards and eight touchdowns. That incredible baseline would be welcome in Oakland, where the Raiders don't have much firepower in the receiver room. Quarterback Derek Carr needs a receiver of Brown's talent level in essentially a prove-it season as the team heads toward Las Vegas in 2020.
His availability has been as impressive as recent stat line. Brown has missed just four games over the last six seasons, even fewer due to injury.
He skipped the 2018 regular-season finale, but that followed issues with the Steelers.
A tumultuous end of the season started a run of controversial comments as he worked to get out of Pittsburgh, but this story isn't about that. It's about the on-field addition, and there's no doubt Brown can still play.
Brown is a future Hall of Famer, someone who works incredibly hard at his craft. That was never called into question, even when his role in Pittsburgh's 2018 discord was outlined in great detail by local press.
Brown is always in great physical shape and has been steadily productive. How long, however, can he sustain this gold-jacket pace? Brown has entered his 30s, and has three years left on his current contract, though it could well get re-worked in coming days.
Top-shelf receivers have remained productive into their mid-30s with sustained health – Tim Brown certainly did, though that's far from guaranteed.
Brown should be a top receiver the next few years at least, likely through the three years remaining on his contract, including this important stretch as the Raiders transition to Las Vegas.
This trade will probably be dissected at length in coming days, specially in relation to what draft capital the Raiders gave up, the addition dollars paid for a 30-something receiver and whether he'll help a Raiders team in early stages of a roster repair. There's no doubting, however, that he can fit Jon Gruden's offensive scheme and the unit a lot scarier than it was before.